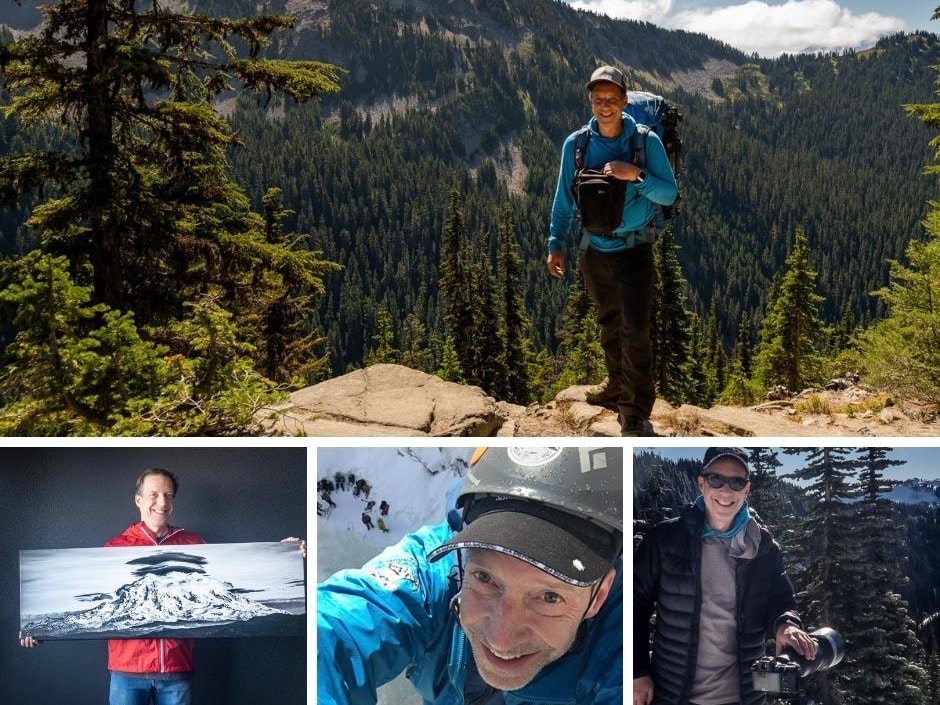 WHO I AM
Hi there, I'm Troy Mason. I take landscape photographs, mostly in black and white. My favorite (and most photographed) subject is Mount Rainier, which sits about an hour and a half away from my front door.
WHERE I LIVE
I live in Tacoma, Washington. I grew up not far away in Lakewood, Washington. I've never lived anywhere else but Western Washington. I love it here.
THINGS I DO
I hike, backpack, climb, walk, and enjoy nature as much as possible, whether it's days away from civilization or a nice walk around my block.
WHEN I STARTED TAKING PICTURES
I was at a YMCA summer camp in maybe 3rd or 4th grade, and had a daily photo class. The instructor let us take pictures with her camera. She had a dark room set up, and it felt like magic to see our pictures later that same day.
WHEN MY INTEREST SPARKED
I took photography in high school, followed by a two year degree in commercial photography from the Art Institute of Seattle. A friend and I started a very short lived business (weddings, ugggg!), and then I stepped away for a lot of years.
WHEN I KEPT TAKING PICTURES
My real photographic growth has happened over the last ten+ years or so, as I relearned photography from the ground up after going digital. My schooling gave me an excellent technical background, but I had to do a lot of work to find my own style, as well as learn to make the software do what I need it to.
WHY I LOVE PHOTOGRAPHY
I just really love photography…I can still feel the developer on my hands, smell the chemicals in the darkroom, and feel the magic as the images slowly appear under the red safety light. I still feel that anticipation while waiting for my digital files to transfer. It's different, but somehow still the same. The magic is still there.
FAVORITE SUBJECTS
Mountains, followed closely by the ocean if I can find the right mood, perspective, and composition, I enjoy cityscapes too. And cats. I take a lot of pictures of my cats.
PERSONAL ROLE MODELS
Two men come to mind. My grandfather always had a camera. I think that put the idea of a camera into my head at a young age. Actually, if I think of photography his kind, loving face comes to mind. Also, I was in Boy Scouts, and my troop was very active in hiking and backpacking. The hike leader was a professional photographer, so he too always had a camera. On the down side, he would give hour long slide shows at some of our meetings. NEXT SLIDE PLEASE lol.
PHOTO ROLE MODELS
From the start, it's been Ansel Adams. What more can I say? In school, I enjoyed learning about the war photographer Robert Capa. Contemporary photographers I like are Jay Vulture, Julia Anna Gospodarou, Joel Tjintjelaar, and many others. Look them up. You'll see why I admire them.
AESTHETIC
Low key, somewhat minimalist, atmospheric. I really enjoy long exposures of between a second or two (is that a long exposure?) to several minutes. Lately, I've been experimenting with an infrared filter. Combining the unique look and feel of infrared with long exposures makes for some interesting visuals.
CAMERA EQUIPMENT
I don't geek out too much on equipment. I use Nikon cameras, because that's what I started with, and the brand holds a special place in my heart! For almost ten years I used a Nikon D600, the first new camera I ever bought for myself, but in the last year I moved to a mirrorless Z7ii. This camera is almost too much for me. Really a technological marvel. My favorite part? I control it from my iPad. Still blows my mind.
CAMERA MEMORIES
My first camera was my grandfathers, that he bought in the early 70s I think. I still have it somewhere. My mom bought me a Nikon FM2 when I went to college, which was a great, simple, solid, no bells and whistles film camera. I still have it, too. I moved up the Nikon chain over a 10+ year period, from a D70, to a D200, to a D600. Then about a year ago I moved to a mirrorless Nikon Z7ii, which is the opposite of my old FM2. It's a computer in a camera case. A real technological marvel!
WHAT ABOUT A LENS
I don't have too many. I try to keep it simple. I have a wide angle 14-30 that I love. For the other extreme, I have a 200-500. This lens allows me to zoom in on distant peaks or buildings. The drawback is it's extremely heavy, so I can't take it on climbs. One of my favorites is an old 50 f1.4. It's manual focus, with incredibly thin depth of field. A real beauty.
WHAT ABOUT YOUR DARKROOM
My computer is my darkroom. I use Adobe Lightroom and Photoshop. I also have a few 3rd party plugins that make things faster. What I do is no different than what I used to try and do in the darkroom; that is, tonal manipulation, dodging, and burning. All black and white, all the time!
WHEN I STARTED MY BUSINESS
This journey was more of a gradual, start-stop-wait-stop-start over many, many years. In fact, I know I'm still at day one with a ton of work ahead. But most recently, I did some in-person art shows in late summer and fall of 2019, and officially launched my website in April of 2020. I'm now focusing on online growth, but hope to get back to in-person shows this year as time and chance allow. I'm really just a very small micro business, trying to lay a foundation for future success.
FINAL THOUGHTS
My business started with looking at other photographers work, and then just wanting to share mine. I started getting more and more requests for prints, or blog use, and even books, so I eventually decided to get organized. My driving motivation has always been to take pictures of what interests me, and to avoid (mostly) common locations or views. Ultimately I just want to have fun and share my passion for photography and nature, and to enjoy making connections with like minded folks.